Dialogo intersoggettivo implicito e dialogo verbale. Il contributo delle neuroscienze ad un approccio analitico alla sofferenza psicocorporea
Dialogo intersoggettivo implicito e dialogo verbale. Il contributo delle neuroscienze ad un approccio analitico alla sofferenza psicocorporea
digital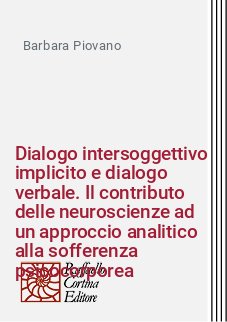 Ebook format Pdf readable on these devices:
Le acquisizioni nelle neuroscienze cognitive sui diversi tipi di memoria hanno sfidato la tradizionale comprensione psicoanalitica della memoria e del suo ruolo nel processo terapeutico. Stern nel suo articolo «Non-interpretive mechanisms in psychoanalytic therapy: The somethimg more than interpretation» sostiene che il cambiamento terapeutico richiede qualcosa in più dell'interpretazione, riferendosi al processo interattivo intersoggettivo tra analista e paziente che crea, attraverso momenti di incontro, una nuova e mutativa conoscenza relazionale implicita in entrambi i partecipanti. L'autrice, dopo aver analizzato le proposte teoriche di Stern, comunica il proprio punto di vista sul cambiamento terapeutico, sottolineando la complessità dei fenomeni clinici osservati nella stanza d'analisi e dei fattori trasformativi che si attivano nel processo analitico. Segnala, quindi, la necessità di alcuni interventi terapeutici specifici in pazienti traumatizzati e in alcuni pazienti neurologici nei quali la sofferenza corporea entra prepotentemente nella stanza d'analisi.
Parole chiave: Attività immaginativa, conoscenza relazionale implicita, estensione dell'ascolto e del setting, intersoggettività, linguaggio verbale, neuropsicoanalisi, radici corporee e interattive della simbolizzazione.
Implicit intersubjective dialogue and verbal dialogue. The contribution of neuroscience to an analytical approach to psycho-corporeal suffering. The acquisitions in cognitive neurosciences regarding various kinds of memory (declarative and procedural) and implicit relational knowing have challenged traditional psychoanalytical understanding of memory and its role in the therapeutic process. In «Non-interpretive mechanisms in psychoanalytic therapy: The «something more than interpretation», Stern maintains that therapeutic change requires something more than interpretation, referring to the intersubjective interactive process between analyst and patient that creates, during moments of encounter, a new, mutative, implicit relational understanding in both participants. The author discusses Stern's theoretical proposals and states her viewpoint regarding therapeutic change, emphasising that the complexity of the clinical phenomena observed in the analytical room and the transformative factors that are activated in the analytical process; she highlights the need for several specific therapeutic interventions in traumatised patients and some neurological patients in which the bodily suffering overwhelmingly enters the analytic room.
Keywords: Bodily and interactive roots of symbolisation, extension of listening and setting, imaginative activity, implicit relational knowing, intersubjectivity, Neuro-Psychoanalysis, verbal language.
Dialogue intersubjectif implicite et dialogue verbal. L'apport des neurosciences à une approche analytique de la souffrance psychocorporelle. Les acquisitions en neurosciences cognitives sur les différents types de mémoire ont remis en question la compréhension psychanalytique traditionnelle de la mémoire et de son rôle dans le processus thérapeutique. Stern dans son article «Mécanismes non interprétatifs dans la thérapie psychanalytique : Le quelque chose de plus que l'interprétation» soutient que le changement thérapeutique nécessite quelque chose de plus qu'une interprétation, se référant au processus interactif intersubjectif entre l'analyste et le patient qui crée, à travers des moments de rencontre, une nouvelle et connaissances relationnelles mutatives implicites chez les deux participants. L'auteur, après avoir analysé les propositions théoriques de Stern, communique son point de vue sur le changement thérapeutique, soulignant la complexité des phénomènes cliniques observés en salle d'analyse et des facteurs de transformation qui s'activent dans le processus analytique. Par conséquent, il souligne la nécessité de certaines interventions thérapeutiques spécifiques chez les patients traumatisés et chez certains patients neurologiques chez lesquels la souffrance corporelle entre massivement dans la salle de consultation.
Mots-Clés: Activité imaginative, savoir relationnel implicite, extension de l'écoute et de la mise en scène, intersubjectivité, langage verbal, neuropsychanalyse, racines corporelles et interactives de la symbolisation.
Diálogo intersubjetivo implícito y diálogo verbal. El aporte de las neurociencias al abordaje analítico al sufrimiento psicocorpóreo. Las adquisiciones enla neurociencia cognitiva sobre diferentes tipos de memoria han desafiado la comprensión psicoanalítica tradicional de la memoria y su papel en el proceso terapéutico. Stern en su artículo «Non-interpretivemechanisms in psychoanalytictherapy: Thesomething more thaninterpretation»argumenta que el cambio terapéutico requiere algo más que la interpretación, refiriéndose al proceso interactivo intersubjetivo entre analista y paciente que crea, a través de momentos de encuentro, un nuevo ymutativo conocimiento relacional implícito en ambos participantes. La autora, tras analizar las propuestas teóricas de Stern, comunica su punto de vista sobre el cambio terapéutico, subrayando la complejidad de los fenómenos clínicos observados en la sala de análisis y de los factores transformadores que se activan en el proceso analítico. Por ello, señala la necesidad de intervenciones terapéuticas específicas en pacientes traumatizados y en algunos pacientes neurológicos en los que el sufrimiento corporal entra de forma abrumadora en el consultorio.
Palabras Clave: Actividad imaginativa, conocimiento relacional implícito, extensión de la escucha y del encuadre, intersubjetividad, lenguaje verbal, neuropsicoanálisis, raíces corporales e interactivas de la simbolización.
Impliziter intersubjektiver Dialog und verbaler Dialog. Der Beitrag der Neurowissenschaften zu einem analytischen Ansatz gegenüber psychosomatischem Leiden. Die Erkenntnisse in der kognitiven Neurowissenschaften zu den verschiedenen Arten der Erinnerung/des Gedächtnisses haben das traditionelle psychoanalytische Verständnis der Erinnerung und ihrer Rolle im therapeutischen Prozess herausgefordert. In seinem Artikel "Non-interpretive mechanisms in psychoanalytic therapy: The somethimg more than interpretation" argumentiert Stern, dass die therapeutische Veränderung mehr als der Deutung bedarf und bezieht sich auf den interaktiven intersubjektiven Prozess zwischen Analytiker und Patient, der durch Momente der Begegnung eine neue und verändernde implizite Beziehungserkenntnis in beiden Teilnehmern schafft. Nach der Analyse von Sterns theoretischen Vorschlägen, legt die Verfasserin den eigenen Standpunkt zur therapeutischen Veränderung dar und unterstreicht die Komplexität der im Analyseraum beobachteten klinischen Phänomene und der transformativen Faktoren die sich im analytischen Prozess aktiviert werden. Sie weist dann auf die Notwendigkeit einiger spezifischer therapeutischer Interventionen bei traumatisierten Patienten sowie bei einigen neurologischen Patienten hin, bei denen das körperliche Leiden stark in den Analyseraum eindringt.
Schlüsselwörter: Imaginative Tätigkeit, implizites Beziehungswissen, Ausweitung des Zuhörens und des Settings, Intersubjektivität, verbale Sprache, Neuropsychoanalyse, körperliche und interaktive Wurzeln der Symbolisierung.